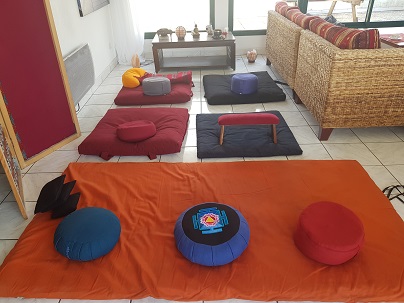 We offer days of life in full presence with the theme "meditation and conviviality" which generally start in the morning at 9:30 am and end at 5:30 pm. (the dates, times and location of these days are indicated on the schedule). These are Medit'Entr'Amis days and I invite you to read carefully here the characteristics of Medit'Entr'Amis activities.
These days take place in an atmosphere of benevolence, without alcohol and with discreet use of the smartphone with the following activities :
– sitting and walking meditations in silence (some of which are guided)
– community life (preparation of meals, dishes)
– sometimes video teaching (mindfulness, Buddhist philosophy, Buddhist psychology)
– sometimes yoga / qigong / bodyscan
Number of participants: between 3 and 10
Cost of these days: the shopping will be done the day before at the end of the afternoon (if you can participate, that's fine) and we will share the bill.There are no other fees.

Practical questions
To contact us, to book or to know how to come to us, consult Pascal's page (Ty An Avel in Plovan) or Yannick's page (La Muditā in Plogastel-Saint-Germain) depending on the place of stay.
An example of a possible course:
9:30
– welcoming participants
– yoga or qigong or bodyscan
– sitting and walking meditations
– lunch preparation
12:30
– lunch
2:45 p.m.
– sitting and walking meditations
– discussion over a tea
– audio or video teaching
5:30 p.m.
– end of the day