Mindfulness life at La Muditā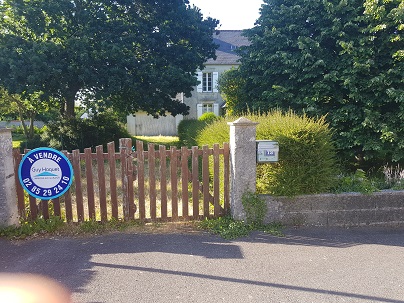 La Muditā est un lieu sans but lucratif qui va ouvrir en décembre 2020.
La Muditā is a non-profit venue that will open in December 2020.
Savoir apprécier la vie telle qu'elle est, maintenant. Cultiver les qualités de bienveillance, de compassion, de tolérance, de respect de l'autre. Savoir se réjouir de ce que nous apporte la vie, du bonheur d'autrui. Vivre au contact de la nature. Vivre une vie communautaire où la spiritualité a toute sa place, une spiritualité laïque, non sectaire ouverte à tous avec une éthique de vie contemporaine.
Un objectif de la Muditā est de créer une communauté de personnes venant y passer des séjours de quelques jours ou de plusieurs semaines et qui ont à cœur de développer ces qualités.
Knowing how to appreciate life as it is, now. Cultivate the qualities of kindness, compassion, tolerance, and respect for others. Knowing how to rejoice in what life brings us and the happiness of others. Live in close contact with the nature. Live a community life where spirituality has its place, a secular, non-sectarian spirituality open to all with a contemporary ethic of life.
An objective of the Muditā is to create a community of people who come to spend a few days or several weeks there and who are committed to developing these qualities.
Vie communautaire et méditation
Community life and meditation
La vie à la Mudita est une vie communautaire avec comme point d'ancrage une pratique quotidienne de la méditation de pleine conscience (vipassana). A la Mudita, il n'y a pas de guide spirituel, juste des méditants avec un peu d'expérience. Nous pourrons à certaines périodes apprendre et pratiquer en suivant des enseignements ou des retraites en ligne.
Life at La Muditā is a community life with as an anchor a daily practice of mindfulness meditation (vipassana). At La Mudita there is no spiritual guide, just meditators with a little experience. At times we might also learn and practice by taking courses online.
La vie communautaire se traduit concrètement par une participation à la préparation des repas, aux tâches ménagères, à l'entretien du jardin et du potager et aux séances de méditation du matin et du soir. En dehors de ces moments de vie communautaire, chacun profite de son temps comme il le souhaite à l'intérieur de la maison et à l'extérieur (ballades à pieds au départ de la maison, baie d'Audierne à 15' en voiture). Chacun peut également faire profiter les autres de ses compétences.
Community life translates concretely into participation in the preparation of meals, household chores, garden and vegetable patch maintenance, and morning and evening meditation sessions. Apart from these moments of community life, everyone takes advantage of their time as they wish inside the house and outside (walks on foot from the house, Audierne bay 15 'by car) . Everyone can also share their skills with others.
Nous essayons tous de veiller au bien être de la communauté. En particulier, un silence attentif est observé du début de la méditation du soir à la fin de la méditation du matin. Les repas sont adaptés aux membres présents (flexitarien, végétarien, vegan).
We all try to ensure the well-being of the community. In particular, attentive silence is observed from the start of the evening meditation to the end of the morning meditation. Meals are adapted to the members present (flexitarian, vegetarian, vegan).
La maison
The house
La maison est composée d'une cuisine, d'un séjour, d'une véranda, d'une petite salle de détente (lecture, vidéo, musique, massages) , de 4 chambres au premier étage et d'une grande pièce au 2ème étage pour faire des réunions, du yoga ou de la méditation. Elle est située sur un terrain arboré de 2200 m² dans une commune du département du Finistère en Bretagne.
The house is composed of a kitchen, a living room, a veranda, a small relaxation room (reading, video, music, massages), 4 bedrooms on the first floor and a large room on the 2nd floor for meetings, yoga or meditation. It is located on a plot of 2200 m² in a village in Britanny in the west of france.
Séances de méditations
Meditations sessions
Les séances de méditations du matin (7H à 8H) et du soir (21H à 21H45) sont diffusées en direct avec le logiciel zoom pour que les membres de la communauté non présents à La Mudita puissent s'ils le souhaitent méditer avec nous de chez eux.
Ces séances sont également ouvertes aux personnes de la région désirant y participer. Il est possible de rester pour la nuit à La Mudita pour profiter aussi de la méditation du matin.
The 7am and 9pm meditation sessions will be broadcast live, with the zoom software, for those who are not present at the Mudita.
These sessions are also open to people from the region wishing to participate. It is possible to stay overnight at La Mudita to also enjoy the morning meditation.
Accueil d'activités extérieures
Hosting of external activities
C'est aussi un lieu qui peut accueillir des ateliers pendant la journée ou des stages sur plusieurs jours sur des thèmes comme la pleine présence, le yoga, la spiritualité, le jardinage ou le massage. Ce sont des activités dans l'esprit du lieu incitant à une vie en pleine présence dans un cadre collectif.
It is also a place that can host activities and meetings during the day on themes such as mindfulness, yoga, spirituality, ecology or massage. These are activities in the spirit of the place, encouraging a life in full presence in a collective setting.
Venir nous rejoindre pour quelques jours ou quelques semaines ?
Come join us for a few days or a few weeks?
Les courts séjours de quelques jours peuvent donner lieu à une initiation à la méditation de pleine conscience. Les séjours plus longs requiert une expérience préalable, par exemple la participation à une ou des retraites de méditation ou une expérience de vie communautaire ou des séjours courts préalables à la Mudita.
Short stays of a few days can lead to an introduction to mindfulness meditation. Longer stays require previous experience, for example participation in one or more meditation retreats or community life experience or previous short stays at the Mudita.
Les personnes de tous âges, ethnies, patrimoines culturels et religieux, groupes socio-économiques, orientations sexuelles et identités de genre sont les bienvenues. Dans la mesure du possible, nous chercherons à nous adapter pour les personnes en situation de handicap.
People of all ages, ethnicities, cultural and religious backgrounds, socio-economic groups, sexual orientations and gender identities are welcome. As far as possible, we will seek to adapt for people with disabilities.
Si vous souhaitez venir nous rejoindre pour quelques jours ou plusieurs semaines, merci de contacter Yannick par courriel à yann@meditentramis.net. Nous discuterons et déciderons des dates et de la durée de ce séjour.
If you wish to come and join us for a few days or several weeks, please contact Yannick (yann@meditentramis.net). We will discuss and decide on the dates and length of your stay.
Coût des séjours
Cost of stays
Aucun bénéfice n'est attendu et la vie à la Muditā est une vie simple. Chacun pourra donner en fonction de ce qu'il peut et à partir d'indication sur le coût réel du séjour : frais de nourriture et d'hébergement. Les frais de nourriture sont de l'ordre de 11 à 14 € par jour. Les frais d'hébergement sont probablement de l'ordre de 5 à 8€ par jour. Nous veillerons à ce que tout ce qui touche aux finances soit transparent avec des comptes compréhensibles et facilement consultables par tous les membres de la communauté.
No profit is expected and life at La Muditā is a simple life. Everyone will be able to give according to what they can and based on an indication of the real cost of the stay: food and accommodation costs. Food costs are in the range of € 11-14 per day. Accommodation costs are probably in the range of € 5-8 per day. We will ensure that everything related to finances is transparent with accounts that are understandable and at the disposal of all the members of the community.
Adhésion à l'association La Muditā
Membership to the La Muditā association
L'association à but non lucratif La Muditā regroupe tous les membres de la communauté. Seuls les membres de l'association peuvent être hébergés. La cotisation annuelle à l'association est de 10€ pour une adhésion simple.
The no-profit La Muditā association brings together all members of the community. Only members of the association can be accommodated. The annual membership fee for the association is € 10 for a simple membership.
Muditā désigne la joie dans la philosophie bouddhiste. C'est plus précisément une joie empathique, une joie bienveillante et altruiste qui se réjouit du bonheur et des succès des autres. C'est une joie sacrée qui fait son délice du bien-être de son prochain, au lieu de nourrir des pensées envieuses et jalouses à son égard. (source wikipédia)
Muditā designates joy in Buddhist philosophy. More precisely, it is an empathetic joy, a benevolent and altruistic joy that rejoices in the happiness and success of others. It is a sacred joy which delights the well-being of his neighbor, instead of harboring envious and jealous thoughts towards him. (source wikipedia)
La Muditā
29710 Plogastel-Saint-Germain
Finistère Bretagne
France
Quelques photos et une vidéo de la Muditā :
(La Muditā ne sera habitée qu'à partir de début décembre)
Some photos and a video of the Muditā:
(La Muditā will only be inhabited from the beginning of December)
Visite du terrain de la Muditā tel qu'il est à ce jour
Visit of the Muditā site as it is now
L'entrée de la Muditā

The entry of La Muditā

La maison

The house

L'arrière avec la véranda

The rear with the veranda

L'escalier du grenier

The stairs of the attic

La véranda

The veranda

La future salle de méditation

The future meditation room