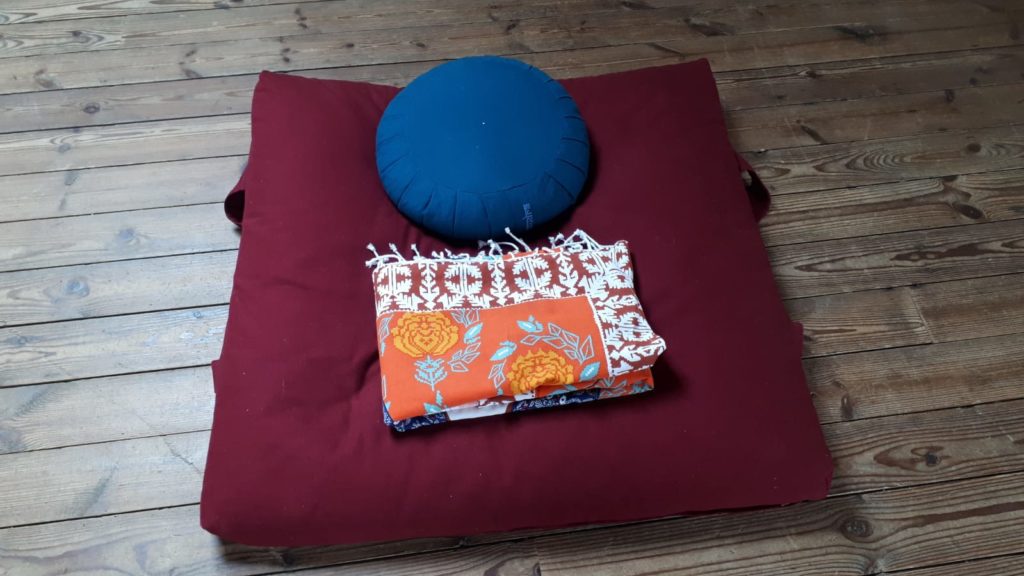 "Meditation and conviviality" sessions are one of the activities offered as part of the Medit'Entr'Amis project.
These sessions are intended for people practicing mindfulness meditation or wishing to discover it. You will find the dates of the next sessions on the home page of this site.
What type of meditation are we talking about here?
The type of meditation concerned here is mindfulness meditation. It is a 100% secular practice that consists of focusing on the present moment, on its internal sensations and perceptions. Mindfulness meditation is most often practiced in a seated position and in silence while sitting on a pillow or chair.
I have never done meditation, can I come to a session?
Yes, we can do a guided initiation meditation together.
How are these sessions going?
At the start of the session, we get to know each other by preparing, depending on the time of day, the meal or snack or dessert that we will have together after the meditation. The meals are simple and vegetarian (soup in the evening and main course at midday followed by cheese and dessert). For snacks and evenings, it can be tea or herbal tea with a cake. If you want to bring something, please let me know.
Then we have a 10 to 20 ′ sitting meditation followed by a break or a walking meditation and then a 30 ′ to 40 ′ sitting meditation. The first sitting meditation is often a guided meditation. Beginners can shorten the second sitting meditation. We will talk about it together.
We continue with a moment of conviviality by eating together. Then we do the dishes 🙂 and the end of session gong sounds.
What to bring ?
All the material for seated meditation is on site (meditation cushions and mats, chairs also for those who prefer). It is best to avoid tight pants (you can change on the spot).
There are slippers on site but you can also bring your own.
If a walk outside is planned, remember to bring the appropriate clothing for the season.
Is it free?
Yes.
Everyone can contribute by bringing something to prepare the meal (lunches or dinners), herbal tea (evenings) or snacks (afternoon). If you want to contribute by bringing something, don't forget to tell me preferably the day before.
How do I register to come to a session?
If you plan to come to a session, or if you want additional information, contact us.