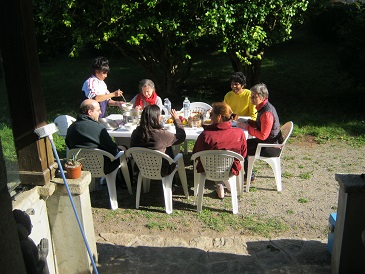 "Meditation and Full Presence" stays are one of the activities offered as part of the Medit'Entr'Amis project.
The main theme of these stays is mindfulness life. Living in the present moment, appreciating what we live when we live it in all our daily activities.
These stays, that we could also qualify as retreats without a teacher or self-managed internships, take place over several days (between 2 and 6 days) and are therefore residential. They take place in Brittany in the south of Finistère.
The dates and locations of the stays can be found on the MeditEntrAmis schedule.

Activities offered during the stay
The main activity will be silent sitting meditation. Meditation in particular helps calm our mind which is useful for living in the present moment. There is no need to have already done meditation: guided meditation sessions will guide the first steps of beginners. This trip will bring together beginners and people with previous meditation and retreat experiences.
Besides meditation, we take care of the tasks related to community life, in particular all that concerns meals. We can also have walks, yoga, qigong, body scan. All of these activities are an opportunity to practice living in the present moment. Teachings or films (mindfulness, Buddhist philosophy, Buddhist psychology) can also be offered. 
Meal
Meals (vegetarian and alcohol-free) are managed by the participants. The timetable provides the time for the preparation of meals and dishes.
Facilitate full presence
– In order to give ourselves the maximum chance of being in full presence, during certain periods of the stay that we will define together, we will respect what is called noble silence: during these periods, we do not communicate and in particular we do not speak except practical exchanges necessary for the management of community life (dishes, cleaning).
– All participants will ensure that the atmosphere allows them to practice meditation in good conditions : silence is then respected in the meditation room and surroundings.
– Smartphones and other connected devices are left in the bedrooms
Information and registration request
if you plan to come to a stay, or if you want additional information, contact us.
Price: the costs for the meals are shared between the participants. There are no other fees. A donation can be made to the association at the end of the stay to allow it to continue offering activities.
Accommodation:
– Stay at Pascal's (Ty An Avel): there are 4 bedrooms each with a double bed allowing accommodation from 4 to 8 people.
– Stay at Yannick's (La Mudita): there are 5 bedrooms each with one to three beds allowing to accommodate 8 to 9 people. There is also the possibility of camping when the weather is favorable.
Meditation material
All meditation equipment is on site (meditation cushions and mats, chairs also for those who prefer)
Stuff to bring
It is best to avoid tight pants for meditation. Remember to bring slippers, rain gear, shoes for walks, flashlight.
Arrival:  The nearest SNCF station is Quimper. If you come by train, we can pick you up at the station. If you come by car, we will give you precise directions to reach your destination
Specific skills: if you have a skill related to full presence (for example: yoga, qigong, …) or if you have ideas for films or lessons that could contribute to the richness of the stay, let us know, we are interested 🙂
Specific information for weekends: weekends generally start on Saturday around 10am and end on Sunday around 5pm. (the dates, times and location of these days are indicated on the schedule). The shopping is done on Saturday morning  and we share the bill.
Specific information for stays of 3 days or more: unless otherwise specified on the schedule, the arrival of participants is scheduled the day before the first day at 5:00 p.m. at the latest in order to be able to shop. After the last day's tea, we get back to our habits and we can enjoy a last "ordinary" convivial evening :). The stay ends the next morning after breakfast.
An example of a possible course:
Morning :
7 or 7:30  a.m. meditation
8 a.m. Breakfast
9:30 a.m. Cooking and housework
10:30   sitting and walking meditations (sometimes yoga or qigong or bodyscan)
12:15 preparing lunch
12:45 p.m. Lunch
Afternoon
3 pm sitting and walking meditations
 4:30pm exchanges on practice and debriefing over tea
 5 pm depending on the day: meditation or walk, film, audio or video teaching, reading
Evening :
6:00 p.m. dinner preparation
6:45 p.m. light dinner
8:00 p.m. depending on the day: meditation or walk, film, audio or video teaching, reading
9 p.m. meditation
10 p.m. end of the day Tea or herbal tea, then sleep or meditation
Silence from 10:30 pm to 8:00 am